Integrating geographically dispersed, multi-vendor devices into
a common environment used to be time-consuming and expensive.
Niagara AX changed all that – making it easier to connect and control. Whether you're an OEM looking to
create new applications and internet-enabled products, or a business seeking to
improve your performance, Niagara AX gets you there faster.

Tridium is committed to supporting our final long-term Niagara AX platform.
With the release of the third update of Niagara AX 3.8, now users can enjoy several of the
features that make Niagara 4 our most robust and secure platform.
Niagara AX 3.8u3 provides several quality and security enhancements,
along with added features, to make Niagara 4 migration easier.

Better performance
· Improved memory stability for legacy JACE® 3E, 6, 6E and 7 controller
· Support for JACE 8000 IO R 16 and 34 point modules so tou can move to the latest fardware now, while planning the leap to Niagara 4
· And more

Improved security
· Update to enable TLS 1.2, the latest cyber security standard
· New secure cipher suites supporting perfect Forward secrecy (PFS) for keeping a Niagara system running securely
· And more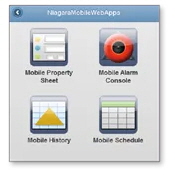 Empowering users with practical tools
Niagara AX is an open, Java-based framework that can connect almost any embedded device or system—regardless of manufacturer or communication protocol. It includes a comprehensive graphical toolset that lets you build rich applications in a drag-and-drop environment and easily manage your assets using a standard web browser.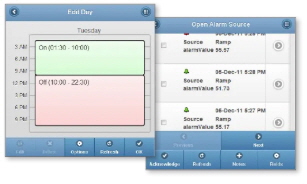 Fully loaded
The Niagara AX framework is packed with features and functions that are easy to build on rather than starting from scratch. Multiple embedded platforms allow for integrated control, supervision, data logging, scheduling and alarming—and Niagara AX features a comprehensive set of drivers. Support for Internet communications and Web services is infused throughout Niagara AX so you can quickly develop and deploy your applications and create a robust user-interface experience.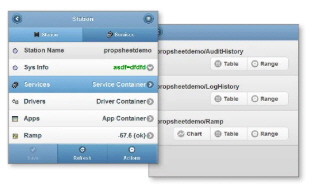 A true foundation
The Niagara AX Framework is proven, adopted in multiple markets and industries, and deployed in more than 70 countries—and its many benefits are easy to see. Reduce project implementation requirements. Free up your organization from supporting high-cost, time-consuming development functions. Increase capacity for product innovation. Build products and applications with unparalleled reliability, security, operational integrity, flexibility and bottom-line value.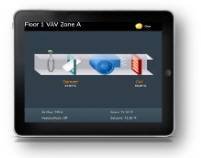 Single tool
Everything you need to get started is at your fingertips with a single integrated toolset for rapid and easy implementation that reduces development time, allowing you to get to market faster.




JACE® controller—Unleashing the power of Niagara
As the hardware that drives our software, JACE controllers unleash the full power of Niagara.

To integrate diverse devices and systems, a physical connection is required. The JACE (Java Application Control Engine) controller is the mechanism that provides this connectivity. By connecting common network protocols such as LonWorks®, BACnet®, Modbus®, OPC, oBIX and many proprietary networks, a unified system emerges. Scalability and reliability are maintained with the unique distributed architecture that a network of JACE controllers creates.

JACE controllers combine integrated control, supervision, data logging, alarming, scheduling and network management functions, integrated IO with internet connectivity and web-serving capabilities—all in a compact platform. A JACE controller makes it possible to control and manage external devices over the internet and present real-time information to users in web-based graphical views.